Akasha's stylist work encompasses a broad range of styles from the stage to the boardroom.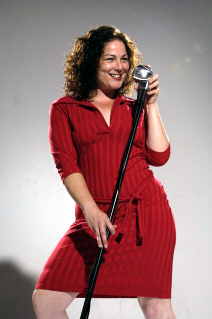 Miss Marcy, a local dallas blues phenomenon, has been seen on stage all over the metroplex rocking out Akasha Styles. To complement the 1920s and 30s era Jazz music that Miss Marcy sings, Akasha designs vintage style dresses for an updated retro look. Akasha has also styled Miss Marcy for stage, photoshoots and other promotion photography including CD covers.
Testimonial
"I love how Akasha listens to me and is able to translate my dream look into something tangible. I already have great taste in clothes, but once I leave the store they never see the outside of my closet! Akasha puts my clothes together in refreshing and exciting ways. I don't have to buy an entirely new wardrobe if I don't want to. She validates and contemporarizes my style without trying to change me. I'm a tough customer, and she's been able to keep me as a client. That's a testament to her outstanding professionalism. Ever since I recognized the value of my appearance as a marketable commodity and invested in a stylist, my life has changed both professionally and personally. Hiring her is not a not a gratuitious treat, it's an investment in your life."
Sincerely, Miss Marcy